Moschino06 New Fashion and Brand Designer Profile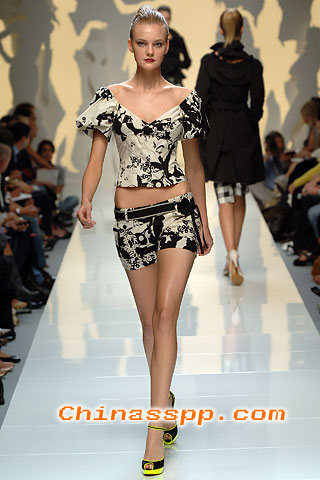 Moschino2006 New Fashion
There are two major talents in the fashion industry, namely Jean Paul Gaultier of France and Franco Moschino of Italy. Both of them have a rebellious naughty mentality, and their designs have all the same artistic charm. Unfortunately, the multi-talented Moskinoin died of gastrointestinal cancer at the age of forty-four, leaving Golje to continue his game.
Moskino was born in a small town near Milan, and his father runs a mine. Moskino often helped in the mine, but he did not intend to inherit his father's family. At the age of 18, he went to Milan to find a way out, served as a model and restaurant, and went to an art evening school at night. After learning Xiaocheng, he worked as a draftsman for advertising companies, theaters, and magazines. Soon Moskino's work was appreciated by Gianni Versace and invited to participate in publicity and promotion, and was also cultivated interest in fashion. In 1971, he began sketching for Giorgio Armani; in 1977, he was invited to become the designer of the Italian brand Cadette; in 1983, seeing the timing, he ran out to establish his own brand. Six years later, the second brand "Cheap & Chic" (meaning "good value") was introduced. At the end of the year, he has established a fashion kingdom with a value of RMB 1.9 billion. He also has 26 operating licenses, including Moschino jeans, socks, shoes, and handbags with large "Moschino" lettering.
Although the rise only lasted for more than a decade, Moskino's popularity was extremely high. This was mainly because Moskino's works and propaganda tactics were all exceptional. It seems to be a natural cynical, Moschino's design is full of whimsical thoughts. He will embroider the embroidered pattern in a small, elaborate tea cup on the front of his clothes chest, inset the jacket with water chestnuts, make hats with koala dolls, sew mini skirts with men's ties, and clearly indicate the price on the back of the clothes. There are endless absurd ideas. He even made evening outfits in garbage bags, only to declare to the world that "fashion is waste"!
Under the avant-garde creative thinking, Moschino has a kind heart of love. He cares about the environment and cares for children and animals. He declared: "Today's fashion is how we recognize our own damage to the earth and the ecology." It also called for "to be gentle and merciful to animals." He didn't talk about it, and he would really support the environmental protection activities. Before he died, he was participating in a program called "smiling" to help children suffering from AIDS enjoy the holiday home. In private life, Moskino can be said to be a hedonist, who loves to eat, sleep, and love "love," but it is not lavishness. In the past fourteen years, he has driven a Fiat car and he has not paid much for entertainment. The cat in the house is his good companion. He designed the fashion, in addition to the Italian mainland, it is best to sell in the United Kingdom. He also loves Britain himself, and likes him for his playful style and acceptance of fashion. He often travels abroad, where he is most attracted to Japan in his footsteps, and India, an ancient civilization, has disappointed him.
Although Moschino does not like to follow the trend, he also has his own set of opinions on pop. "Popularity is not exclusive to a few people, but it is a small game that happens in your life at any time!" So the popularity of Moschino is just one piece. People's clothing that smiles, which also includes his love of life and the longing for world peace.
In 1994, the smiling master Moschino died, but his creative spirit is still preserved by the Moschino design group. We can still see every season, Moschino, forever smiling.
Previous Page 1 2345678910...12Next Full Story
Crystal Block,Laser Taurus Inside Crystal Block
Philosophers Arts & Crafts Factory , http://www.zrcrystal.com