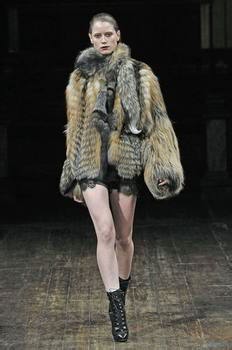 In recent years, China's fur industry has developed rapidly, processing and production technology has improved, a large number of domestic brands have grown and expanded, and have occupied an important share in the international fur market. According to relevant data, from January to June this year, the sales revenue of leather, furs and products and footwear industry above designated size nationwide was 538.65 billion yuan, and the total profit was 31.35 billion yuan; the import and export of the leather industry still ranked first in the world, with imports of 3.97 billion US dollars. This was a 5.9% year-on-year increase. Although the growth slowed down, it was still considered by the international industry as an important market for its further development.
"For the new demands of the society and the market, the leather industry must also make adjustments and cannot be separated from the main line of environmental protection." Li Yuzhong, executive vice chairman and secretary-general of the China Leather Association, said that for the new requirements put forward by the society and the market for the industry, local governments must Guide companies to change in a timely manner.
Zaoqiang County County Committee ** Sun Shiyan said that in order to protect wildlife, local efforts have been made to develop ecological farming and ensure fur supply. Zaoqiang special investment of 1 billion yuan to build a modern ecological farming area covering 1,700 acres. At present, the first-phase project covering an area of ​​500 acres has been completed, and there are nearly 500,000 fur animals such as minks, foxes and raccoons. In the next step, according to this model, three 500-mu farms will be constructed, such as Zhangmi, Shicun, and Gold, so that the scale of breeding will reach more than 2 million. In addition, Zaoqiang also encourages enterprises to improve their production processes. The government will help the company to establish long-term cooperative relationships with Shaanxi University of Science and Technology, Hebei University of Science and Technology, and Hebei University of Science and Technology and other universities and research institutes to improve processing technology and technology.
At the same time, the relevant state departments also requested that the propaganda call for the closure of small-scale dyeing factories, guide enterprises to the industrial park for large-scale centralized dyeing, and achieve high standards of sewage requirements. Although this will increase the cost, it is also a necessary path for industrial transformation.
Li Yuzhong believes that in the future, along with the continuous development of the fur market and the increase in market demand, the fur industry is bound to start with environmental protection, technology and design, strengthen the industry's strength to expand the market, and realize an export-oriented economy to a consumption-driven economy. change.
1.Soft handfeel fabric which not hurt kids skin
2.Summer lovely comfortable style
3.High quality woven fabric
4.Material: 100% Cotton Denim
5.Color: As shown or Customized
6.Payment: Alibaba Trade Assurance, L/C,T/T,Western Union,Paypal,MoneyGram,Cash,etc
7.Sampling: 2-7 days
8.Delivery Time: 15-30 days
Children'S Cotton Pants,Fashion Children'S Cotton Pants,Cotton Children'S Cotton Pants
Dongguan Zhongtang yu' an Weaving factory , https://www.yuanfabric.com