There is a magic fiber, only one tenth of the hair thin, but the fiber bundle strength is 4 to 5 times the steel; in the high temperature environment above 2000 ℃, the other fibers may have already turned into ashes, it is motionless; it Has not only succeeded in helping InterContinental missiles succeed in flying, but also in the field of new materials now blowing a revolutionary whirlwind, using it to build large aircraft, cars, ships, can significantly weight-loss speed; use it to do golf clubs, badminton Beat, light and durable ... it is the carbon fiber known as "black gold." On the campus of Donghua University, there is an expert who has spent the whole of his life with carbon fiber. He is Professor Pan Ding of the School of Materials Science and Engineering. Tackling difficulties: to help the missile soar With the support of the relevant state departments, Professor Ding Pan led the project of carbon fiber project endangering, eventually successfully developed Jimei, Russia, director of similar product performance space-based high-purity viscose-based carbon fiber . Professor Pan Ding as early as 40 years ago with the carbon fiber formed a bond. In 1978, he was admitted to East China Textile Institute (Donghua University predecessor). It is from that time onwards that under the guidance of his mentor, Professor Qian Baojun, the father of China's chemical fiber, he began devoting himself to the theory and industrialization of carbon fiber. Professor Pan recalled that in the 1980s, China's number one strategic missile intercontinental missile confronted the last two long-standing technological challenges. One of the "stumbling block" is space-grade high-viscose-based carbon fiber. As the intercontinental missile warhead heat-resistant layer of key materials, space-grade high-performance viscose-based carbon fiber performance, quality is directly related to the quality and success of missile flight. Because of its high requirements for raw materials, preparation technology is extremely difficult, when only the United States and Russia have two superpowers, and imposed a strict embargo on our country and a technology blockade. Tackle the storm can not miss the day! With the support of the relevant state departments, the project headed by Professor Pan Ding was endangered. Using the denial of foreign countries and the only cotton-based cellulose in China as raw materials, it has successively tackled the difficulties such as "raw silk, technology, strength and waste disposal" , Hard fighting for 4 years, made a series of breakthroughs in the basic theory, technology and preparation of carbon fiber production, obtained a large number of original achievements in hardware and software technology, and finally succeeded in the development of Jimei, Russia, director of similar products performance Aerospace-grade high-viscose-based carbon fiber, the strategic arms provide a key technical support. Professor Pan's move not only filled the domestic blank, making our country the third country in the world to master the research and development of space-grade high-purity viscose carbon fibers. It also made a national defense modernization and safeguarding the results of national economic modernization contribution. For more than 10 years, Prof. Pan Ding has provided continual and steady carbon fiber products of quality and quantity for active and follow-up all types of missiles in cooperation with the national strategic tasks. It has been fully affirmed by the relevant space departments and military representatives, Progress Award and many other awards. Dare to be the first: push industry upgrading If the viscose-based carbon fiber "turned out", showing Donghua University in the field of high-performance fiber research "courageous" courage and courage, then polyacrylonitrile-based carbon fiber Continuing research shows the determination and perseverance of the team led by Professor Pan Ding to "strive for excellence" in the process of "upgrading and upgrading" the new material industry. Polyacrylonitrile-based carbon fibers are also used in the defense industry as compared to viscose-based carbon fibers. However, the civil areas covered by them are more extensive. Not only are vehicles and other transport vehicles available, but also building materials, medical devices and sporting goods. Take the aircraft, the former is the use of aluminum supplies, there is fatigue limit, the use of polyacrylonitrile-based carbon fiber material, not only lighter body, fly faster, more importantly, the intensity can be strengthened, the probability of rupture Lower safety factor has also been greatly improved in energy consumption and environmental pollution, but also created outstanding benefits. At present, China's largest civilian carbon fiber production enterprises are located in Lianyungang, Jiangsu Eagle Tour Group in the resuscitation Eagle Carbon Fiber Co., Ltd.. The company has created a number of "firsts" in the field of domestic carbon fiber: the first to realize industrialization of Tons of T300 carbon fibers, the first breakthrough in dry-jet wet-spinning of T700 carbon fibers, and the nationwide carbon fiber production in 2011 amounted to nearly 1,500 tons, Eagle's sales of carbon fiber has reached 1,000 tons ... ... Behind these aura is Professor Pan Ding, led by Donghua University research team Ying Ying Group's full support. In response, Zhang Guoliang, chairman of the company deeply touched. In 2005, Foxconn company just started, Zhang Guoliang visited almost all of China's carbon fiber research experts, because it is difficult to achieve industrialization of technology, only a small number of experts, such as Pan Ding support him. Zhang Guoliang also clearly remembered that from September 29 to October 2 of that year, Professor Pan systematically attached the first lesson of carbon fiber to himself and his team of former textile and textile industry for five days from the moment of acrylonitrile monomer Carbon fiber chaos graphite structure, from the raw silk, carbonized production line to the aircraft, missiles, automobiles, bicycles and other carbon fiber composite materials development, Professor Pan profound, detailed introduction, triggered Zhang Guoliang and business people interested in carbon fiber. The close cooperation and collaborative innovation between school and enterprise started from this and it was "overwhelming." Under the leadership of Professor Pan Ding, Donghua University Institute of Materials research team relies on materials science national key disciplines, the top ten most important subjects in Shanghai, fiber material modification of national key experimental and other national scientific research base advantage, will be in a series National and provincial 973 and other major theoretical basis of the project results obtained "the whole process of defect generation and elimination of" theory, the domestic and foreign high-performance carbon fiber manufacturing unit key integration and integration of technology introduced to the enterprise, a number of achievements in Jiangsu Province Project, jointly declare and undertake scientific research tasks for the resurrection of general-purpose industrialized carbon fiber and high strength and high carbon fiber model manufacturing continued to provide a strong scientific and technological support. From 2009 onwards, Donghua University - in the compound God Eagle carbon fiber engineering and technology center, Donghua University - in the compound Shenzhou carbon fiber engineering research center, Donghua University Materials Science and Engineering Postdoctoral Station research base, Yingyou Group carbon fiber postdoctoral research Workstations and other research bases and other collaborative innovation platform set up one after another to enhance the research and development strength of enterprises, but also to promote the process of carbon fiber industry has provided a solid guarantee. Speaking with confidence in the future, Zhang Guoliang said with confidence: "Nowadays, we have achieved self-design, self-manufacturing, self-installation and self-commissioning of carbon fiber series production equipment and multiple production lines. This has basically broken the gap between the advanced technologies of foreign advanced countries and our country's key production technologies and Equipment, and the construction of 10,000 tons of carbon fiber production base already have the scale is expected by 2015, the domestic demand for carbon fiber production will reach 12,000 tons, as soon as possible to change the backward situation of China's carbon fiber production to catch up with and surpass the world's advanced level has been With the powerful combination of Donghua University, close cooperation, we have the confidence of the Condor, the ability to boost China's carbon fiber industry's dream! "Persistent exploration: for the country people persevere Professor Pan Ding said : "It is the responsibility of the nation to be responsible for the rise and fall of each country. To do research, we should solve the key technologies and serve the national economy and people's livelihood. This is the source of strength that supports me and our colleagues today." From the moment of joining the carbon fiber industry, Professor Pan Ding, With the fiber industry's "biggest names" hit half a century of dealing. In order to soon develop the country's much-needed carbon fiber products, he and the project team teachers are often flutter in the production line all night long, regardless of cold and summer, hardship, the workshop as a home, sleepy on the steel platform for a while, hungry Just eat something. Professor Pan said frankly that there was pressure on the study to get overwhelmed by pressure when it was almost overwhelmed, but he finally came forward with his persistent belief. "It is the responsibility of the nation to be responsible for the rise and fall of each country. To do research, we should solve the key technologies and serve the national economy and people's livelihood. This is probably the source of strength that supports me and our colleagues today!" Said Professor Pan. During the interview, the reporter also learned that Professor Pan emphasized both the innovation of technology and process, the collaborative innovation with enterprises, and the basic research in carbon fiber research. "To put it bluntly, it is necessary to understand the principle and know why, But also to understand the method, know how to do, how industrialization .Professor Pan has the same point of view, as well as national "973" project chief scientist, Donghua University, deputy director of the State Key Laboratory of modification of fiber materials Yu Mu fire professor, he is currently leading the charge of "a key scientific issue in the preparation of high-performance aramid fiber," a key national basic research project. According to him, Donghua University not only made achievements in the localization and stable production of viscose-based carbon fibers and polyacrylonitrile-based carbon fibers, but also in the field of theoretical research on new high-performance fibers such as high-temperature ceramic fibers and ultra-high strength organic high-performance fibers Also cutting-edge exploration. "High-performance fiber research vision must be long-term, understand the national development strategy and its needs, accurately grasp the international trends; efforts to solve theoretical problems and key technologies at the same time, we must consider whether industrialization, and sincerely for business services, so It is possible to make a difference. "
Introduction:
1. Plain Dyed Towels are those towels with only one color in the whole towel, it is characterized by the simple color, concise style, pure and clean color, makes you fees better when using it.
2. These bath towels are made from the pure cotton fabric that weaved from the natural colored threads.
3. Give a good look to your bathroom with these Plain Towels. Designed by our develop and research team.
4. The main feature of Plain Dyed Towel is its simple style, and pure color which makes people feel good.
5. Mainly our towels are made from 100% cotton from Xinjiang, China. So the material absolutely with high qualityl
6. These towels have become popular worldwide because of their high comfort and fast absorption.
7. Various colors, sizes, designs of Plain Towels are all available.
8. We have plain dyed towels of bath towels, hand towels, face towels,etc. Various colors, sizes, designs of Plain Towels are all available. As long as you have any need of plain dyed towels, just consult with us, will answer directly.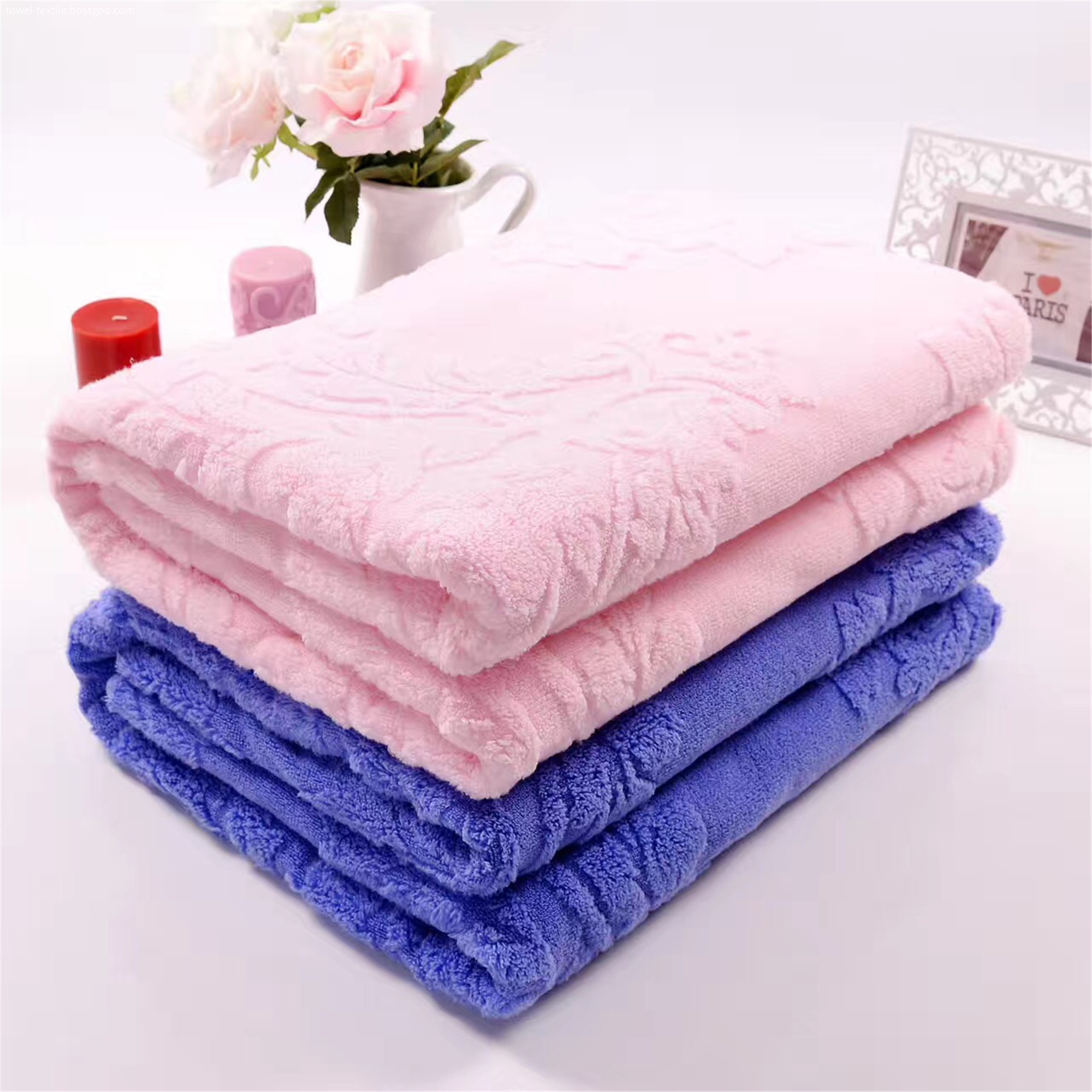 Plain Dyed Towel
Plain Dyed Towel,Ultra Soft Plain Dyed Towel,Microfiber Yoga Towel, Water Absorption Plain Dyed Towel
Gaoyang Dongfei Textiles Co., LTD. , https://www.textile-towel.com