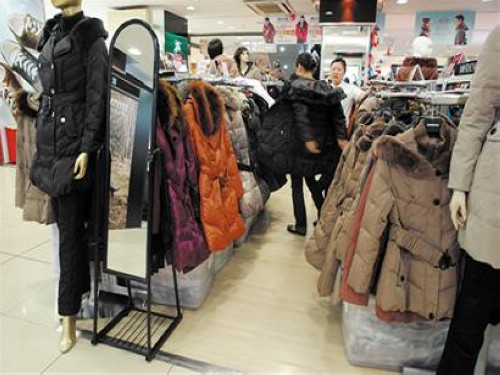 According to a report by the Straits Guidebook in Xiamen, the weather in Xiamen has gradually turned cold and many citizens have started to purchase winter clothes. However, after "80s", the white-collar road ** went back empty-handed after a morning stroll in Xiamen yesterday. It was not that he didn't pick it, but the price of clothing "scared" her to a shirt of nearly 2,000 yuan. With seven or eight hundred yuan T-shirts and four-figure winter coats, the road is not sighing with big hair. Now the clothes are going too far.
This year's winter upsurge about 20% of the road ** can be regarded as a "shopping up to people", which shopping mall in Xiamen discount, which brand of clothing for themselves, she already has a set of experiences, but this year this winter, the road is winter clothing I was guilty of guilt.
"At this time last year, it was more than 300 yuan to buy a sweater, and the bottoming shirt and jeans were only a few hundred dollars. With 1,000 yuan, almost a winter outfit can be purchased. But this year's situation is quite different." *Said that there were thousands of shirts and sweaters before, but it was only an individual phenomenon. However, at this year's shopping mall, pick up one item at random. It is not uncommon for the price to be a thousand dollars, and 1,000 yuan can buy one or two pieces. Not bad.
Yesterday, the Herald reporter saw a shopping mall in Luling Road, down jacket price 2,499 yuan, 899 yuan jeans, windbreaker 1,499 yuan, there is a leather price is 3299 yuan. Sales staff said that now everything is going up, and clothing prices are also expected, and this year's winter wear is generally around 20%.
In a department store on Zhongshan Road, the clothing price is mostly "four-digit", and many brands have almost doubled compared to last year. What makes Lulu depressed is that as long as it is a shopping mall that engages in activities, almost all brands will participate. Some popular jeans can hit 50% off. "But this year, I don't know if these brands want to raise their prices, or if they are really costly. A lot has gone up, and those brands that used to be able to hit 50% discounts are not discounted this year."
Why does this year's winter wear go so far as to increase the sales price? The most closely related to the cost of clothing is the price of
Cotton
, but cotton has little to do with the high price of the terminal. It is understood that compared with March of this year, more than 30,000 yuan per ton, the price of cotton fell sharply in autumn, but the price of clothing closely related to the cotton price has not loosened.
Mr. Fan, who worked as a clothing contractor in the lake, told the reporter that it takes three to four months for garments to go from design to order production. Now most of the clothes that are made use cotton from this spring, so the current cost of autumn and winter clothing is at High position. "In addition to accounting for 60% of the cost of raw materials, the cost of artificial clothing and promotion has also increased a lot in one year." Mr. Fan said that the wages of workers, for example, have increased by an average of over 20% in the past year.
In addition to other clothing brands, Mr. Fan also owns a clothing brand. He said that in general shopping malls selling clothing about 1,000 yuan, in fact, the ex-factory price is also about 100 yuan, resulting in a huge difference between the terminal retail price and the ex-factory price is the main reason is that the various aspects of the circulation process continue to increase prices.
"In the apparel sales process, the costs of labor, logistics, warehousing, advertising, channel construction, shop rental, and utilities are all rising." Mr. Zhong, the head of the Xiamen local brand, has already sold his brand to major department stores in the country. He told the Herald reporter that a T-shirt that costs more than 20 yuan will be shipped from the factory for only about 30 yuan, but it may turn into a 50 yuan for the provincial-level agent. When the price reaches the municipal level, the price can be Up to 80 yuan, the final pricing into the retail terminal is determined by the brand awareness, the general brand may increase the price of about 5 times, that is, 6 times the purchase price, well-known brands can even reach 10 times, the top international brands is up to several times .
Tulle Lace,Cotton Lace,Polyester Lace
Africa Voile Lace Co., Ltd. , http://www.nslace.com